Hard Drive Activation December 03rd, 2013
With the release of True Keys version 1.04 today you'll now be able to authorize True Keys to a hard drive or an iLok key. It's already available for all current users of True Keys single pianos (Italian, German, American). It will be available tomorrow (12/4) for users of the full True Keys Suite. Users who purchased True Keys prior to 12/01/13 can contact us to get an updated license for this feature.
Version 1.04 also introduces new tuning features and functionality into True Keys. We'll be releasing more tutorials, updating the user manual, and releasing new videos shortly.
The VI Labs Holiday Sale continues through the end of the year so between the new authorization method and sale there's never been a better time to experience True Keys!
Some Important Notes
-You'll want to make sure you're running UVI Workstation 2.0.19 (or later)
-You'll want to have the most up-to-date version of the iLok License Manager
No More iLok Key? November 29th, 2013
It's been our most requested feature by our end-users and we're happy to announce that within the next several days you'll be able to authorize and use True Keys without a physical USB iLok key.
We'll still use the iLok License Manager software, but you'll have the ability to continue using the iLok USB Key or authorize the license to your computer hard drive if you prefer. We hope to have this update rolled out by Wednesday, December 4th. If you have any questions about this functionality please let us know by using the Contact information above.
VI Labs Holiday Sale November 28th, 2013
Our holiday sale starts today and runs until the end of the year. Now is your time to save BIG on the whole True Keys line. Read the e-mail getting sent out today below to learn more. The prices are active on the site now. Enjoy! -VI Labs Team.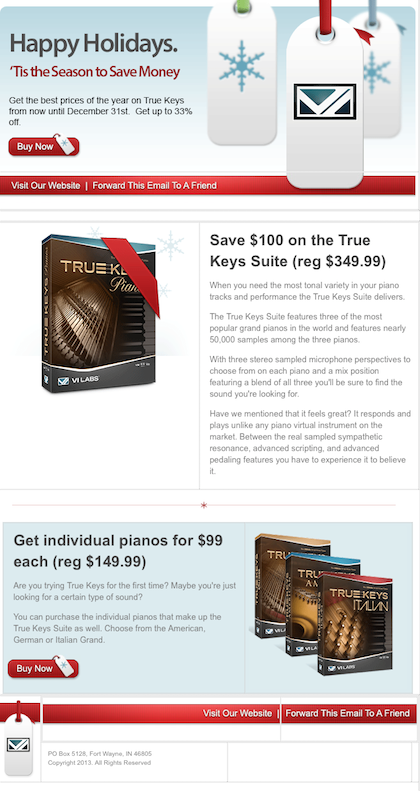 Sound on Sound Review July 19th, 2013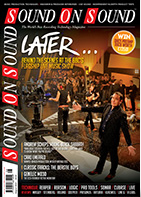 Sound on Sound Magazine published a great review of True Keys Pianos in the August issue. You can read it on page 92 (62 in the US Edition), or visit their website by clicking the link below.
http://www.soundonsound.com/sos/aug13/articles/vi-labs-true-keys-pianos.htm
Here is an excerpt:
"One of True Keys Piano's most persuasive gimmicks is that it doesn't actually have any: no physical modelling or synthesis is used. Everything you hear is based on samples. Saying that this makes the pianos more 'real' may sound like a contradiction in terms, but it's comforting to know that your performances are triggering sounds made by a real-life person on an acoustic instrument, down to the last detail of a quietly reiterated una corda note or a half-pressed sustain pedal.
If you'd told me 10 years ago that I'd enjoy reviewing a sampled piano, I wouldn't have believed you, but the fact is that while auditioning these three fine instruments
I frequently found myself falling into that magical state of mind (or is it non-mind?) where one begins to write music, and that's probably the biggest compliment anyone could pay a sample library."
Pro Tools 11 AAX Support July 16th, 2013
UVI has released the latest version of the UVI Workstation (2.1.2) for Windows and Apple users. It will allow users of Pro Tools 11 to use True Keys as an AAX 64-bit plug-in within Pro Tools 11 and also offers other bug fixes/enhancements. We recommend all users install the upgrade. Click HERE to get the latest version of UVI Workstation.
Simply The Best June 11th, 2013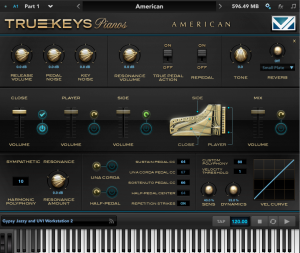 We keep hearing from our users that True Keys is simply the best virtual piano product on the market today. There are so many great products available, so that's quite the humbling compliment and we really do appreciate the kind words. Soon, you'll be hearing tracks in movie scores and on the radio with True Keys at the core.
Now that we've made the single pianos available for just $149 each it's never been easier to experience the True Keys difference for yourself. This is what our users are saying:
"When I heard True Keys I was amazed. When I played it through my weighted keyboard it completely changed the instrument's feel. It's as if a real piano is living inside of it." -S. Osterkamp
"I think it's fantastic; certainly the best sampled piano I've used so far. The basic piano tone is wonderful, especially on the American and German (a very inspired choice!): full of fullness, body, warmth, clarity and depth...For me the tell-tale signs that True Keys is a really first-rate virtual instrument is the fact that I kept playing for hours the first time I tried it (it really is that addictive); that I didn't spend much time at all tweaking the sound (it simply sounds great out of the box) and that I didn't find myself reaching for the reverb (many other virtual pianos need reverb to mask the inadequacies or thinness of the piano sound)." -JF Dijkhuizen
"I actually love True Keys, it has a purity and clarity without being sterile. The low end is full without being muddy, it has creamy mids and the highs absolutely sparkle. These pianos are inspiring and I find them taking me in directions my other pianos don't." - L Atencio
"...and the best part of True Keys apart from the sound is playability. Many sample pianos sound great (and I have more of them than I'd like to admit to my wife...) but are no fun to play, you have to program them to bring out their quality. True Keys on the other hand behaves a lot like a real piano would. I mostly just play without any tweaking after the fact. So how would I rate it? Most of my other piano libraries aren't residing on my HD anymore. That should say it all. Great job, VI Labs!" - J. Kroeni
We're also pleased to announce that True Keys was just named one of the top virtual pianos by the editorial team at AudioFanzine. Check out the article HERE.